Daphne Kalotay & John Fulton at Brookline Booksmith
In person at Brookline Booksmith! Join us for a conversation between Daphne Kalotay (The Archivists) and John Fulton (The Flounder).
Register for the event!
RSVP to let us know you're coming! Depending on the volume of responses, an RSVP may be required for entrance to the event. You will also be alerted to important details about the program, including safety requirements, cancellations, and book signing updates.
Reserve a book!
Books will be available for purchase at the event, but you can ensure that you get a copy by preordering on this page. You can pick your book up after 6:30PM on the day of the event.
Can't make it to the event? Preorder the book here to have it signed, and choose to have it held or shipped from the store!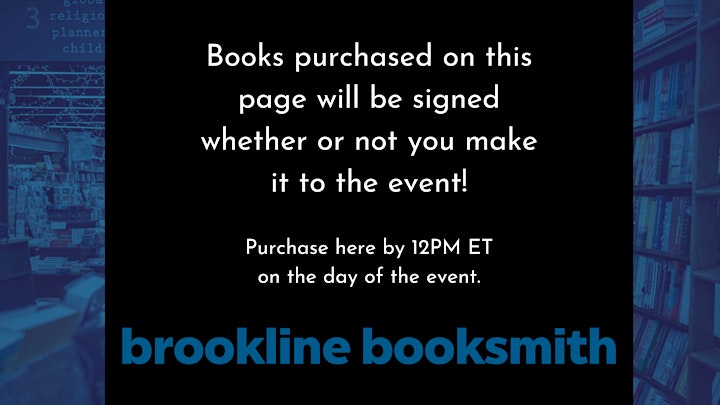 The Archivists: Stories
Winner of the 2021 Grace Paley Prize for Short Fiction
The characters in The Archivists are everyday people, but when private losses or the shocks of history set their worlds reeling, they find connection and liberation in surprising, buoyant ways. Winner of the Grace Paley Prize for Short Fiction, this vibrant collection brings transcendence, wry humor, and a touch of the uncanny to life's absurdities and catastrophes—whether the 2008 economic crash, fallout after the 2016 presidential election, gentrification, pandemic lockdown, illness, or the intergenerational impacts of the Holocaust and Communist occupation of Eastern Europe.
A hardheaded realist is confronted by both her mortality and a would-be wizard. A thirteen-year-old girl in 1950s Toronto infiltrates the ranks of Bell Canada. A ninety-nine-year-old woman appears to be invincible. A group hikes in Germany, and a solitary woman is pursued on a walk in New Mexico. These deeply moving stories ingeniously consider issues of identity, history, and memory and our shared search for meaning in an off-kilter world.
Published in 20+ languages, Daphne Kalotay's books include the award-winning novels Sight Reading, Russian Winter and Blue Hours, and two story collections: The Archivists, winner of the Grace Paley Prize, and Calamity and Other Stories, shortlisted for The Story Prize. A recipient of fellowships from the Christopher Isherwood Foundation, MacDowell, and Yaddo, she teaches at Princeton University.
The Flounder: Stories
The riddles of desire, youth, old age, poverty, and wealth are laid bare in this radiant collection from a master of the form. From inner-city pawnshops to high-powered law firms, from the desert of California to the coast of France, The Flounder paints a vivid portrait of how complex and poignant everyday life can be. Told in vibrant, incantatory prose, these moving, lyrical, and surprising stories teeter between desperation and hope, with Fulton showing us what lasts in an impermanent world.
John Fulton is the author of three other books of fiction: The Animal Girl, which was long listed for the Story Prize, Retribution, which won the Southern Review Fiction Prize, and the novel More Than Enough, a Barnes and Noble's Discover Great New Writers selection. His short fiction has been awarded the Pushcart Prize, cited for distinction in The Best American Short Stories, and been published in Zoetrope, The Sun, Ploughshares, and The Missouri Review, among other venues. He lives with his family in Boston, where he directs the MFA program at the University of Massachusetts Boston.
About Brookline Booksmith
We are one of New England's premier independent bookstores, family-owned and locally run since 1961. We offer an extensive selection of new, used, and bargain books; unique, beautiful gifts; award-winning events series; and specialty foods. Every day, we strive to foster community through the written word, represent a diverse range of voices and histories, and inspire conversations that enrich our lives. Find more at brooklinebooksmith.com!
EVENT ACCESSIBILITY
This event will take place at street level. If possible, the event will be livestreamed to YouTube. ASL interpretation may be provided (based on the availability of interpreters) but must be requested at least 2 weeks in advance of the event. Seats are limited. Please email us at tickets@brooklinebooksmith.com as soon as possible if you require ASL interpretation, guaranteed seating, or other accommodations. We will do our best to serve your needs!